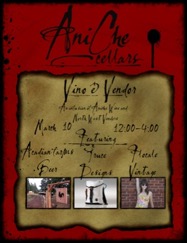 Vino & Vendors
Underwood, WA
Come sip AniChe wine and shop from some of our favorite NW business Noon-4pm at AniChe Cellars! Featuring killer vintage digs from Flocole Vintage (http://www.etsy.com/people/flocole?ref=ls_profile), fashionable and Environmentally responsible bags by Truce Designs (http://www.trucedesigns.com/pages/about) , and last but not least we will have BEER from the awesome Acadian Farm's (http://www.acadianorganics.com/).
Learn more about AniChe Cellars
---
Starts on: March 10, 2013 @ 12:00 PM
Ends on: March 10, 2013 @ 4:00 PM
---
Contact Information
Phone: 360-624-6531
Website: anichecellars.com

Address
Vino & Vendors

71 Little Buck Creek Rd, Underwood, WA 98651
---
Post a Comment
You must be signed in to comment.
New to WineTrailsNW? Sign up to comment.