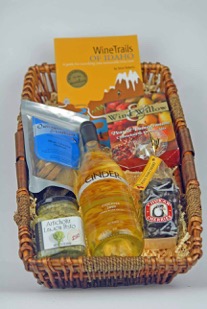 Snake River White Wine Bonanza
Pairing the WineTrails of Idaho guidebook with a bottle of Idaho's finest – Cinder's 2009 Viognier hallmarks this exclusive gift. Accompanying the book and wine are Northwest gourmet foods including Outrageous Blue Cheese Shortbread cookies, Chukar Dark Chocolate Cabernet Cherries, Elki Artichoke Lemon Pesto, and Wind & Willow's scrumptious Pear & Pomegranate Cheeseball Mix. Reuse the willow basket container as a perfect tray for serving artisan breads or storing and displaying your fine bathroom towels.
You must be 21 years or older to purchase this product
Price: $69.00
---
Post a Comment
You must be signed in to comment.
New to WineTrailsNW? Sign up to comment.