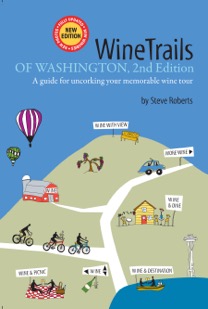 WineTrails of Washington, 2nd Edition
Pre-order the book now and get a fresh copy when available mid-August 2013. WineTrails of Washington, 2nd Edition completely updates the best-selling original guide. New photos, new wineries, new WineTrails and much more comprise this lovingly updated guide.
WineTrails of Washington, 2nd Edition makes it both easy and fun to experience the many tasting rooms throughout Washington. Trekking from tasting rooms housed in romantic chateaus to those occupying lovingly restored barns, you will learn firsthand why Washington wines get rave reviews.
Local author Steve Roberts guides you through memorable wine tours, from Woodinville to Walla Walla. This book features over 500 wineries grouped into 32 unique WineTrails, most of which can be experienced in a day or two. Profiles of each winery include a winery description, the winemaker 's philosophy, photos, contact information and tasting room hours. You'll also find tips on tasting room etiquette and lessons from Wine Tasting 101. Take along this guide and read aloud as you uncork, swirl, and sip your way along Washington's WineTrails!
Price: $24.95
Other Suggestions
---
Post a Comment
You must be signed in to comment.
New to WineTrailsNW? Sign up to comment.