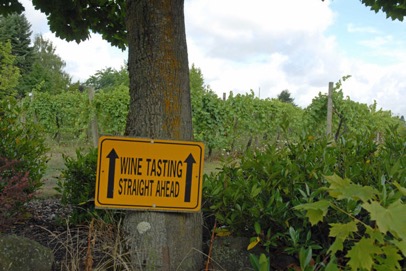 Alexeli Vineyard & Winery
Brothers Philip and Anthony Kramer know what they have gotten into. In 2007 they acquired Marquam Hill Vineyard & Winery from Joe Dobbes (the father of well-know winemaker son Joe Dobbes Jr.) and understood the task ahead – rehabbing the vineyard, upgrading the gardens and picnic area and overhauling the tasting room. Fortunately, for the Kramer brothers they have considerable energy, youth and passion working in their favor. Philip's educational background, including a degree in mechanical engineering from Rensselaer Polytechnic Institute, is relied upon in redesigning the tasting room. By day, Anthony works at a social service organization in Portland and switches to his winemaking persona at night and on the weekends.
To put their signature on the winery, the Wisconsin-bred brothers changed the name of the winery. Formerly Marquam Hill the new winery's name is Alexeli Vineyard & Winery. If your GPS device says "Marquam Hill Vineyard & Winery", it's OK. You're at the right place. For the brothers it's a branding thing and a desire to distinguish them from the past.
With 20 acres of vineyards to rehab, Philip and Anthony have considerable "vine time" in store. However, the brothers are committed to a sustainable vineyard practices and their efforts focus on growing organic grapes and creating an eco-system for plants to thrive. Fruit quantity is secondary to fruit quality and the long hours ahead of them is the price to pay for creating a "green" vineyard.
At one end of the 60-acre property is a gazebo and private lake where visitors can take their bottle of wine and picnic on nice days. Take time to stroll through the vineyards and experience this splendid setting. It's a dream come true for two cheese heads from Wisconsin.






WineTrail: East Willamette Valley WineTrail
Owner: Anthony and Philip Kramer
Winemaker: Joe Dobbes Jr.
Opened: 2008
Tasting Room: Open to the public
Amenities: Gift Shop, Picnic Area, Receptions, , Tours, Weddings
Where To Buy: Winery
Phone: 503-829-6677
Website: www.alexeli.com
Official Winery Rep/Owner: Information Change? Click Here
Alexeli Vineyard & Winery

Winery/Tasting Room

35803 S. Hwy 213,

Molalla,

OR

97038

-122.67267099999999402

45.090826999999997327

Hours: Friday, Saturday, and Sunday -- call for hours
Enlarge Map
Directions: From Molalla, take SR-211 [W. Main St.] west 1.4 miles. Turn left (south) onto SR-213 [Cascade Hwy S.] for 5. 3 miles. Arrive at 35803 SR-213 (Marquam Hill Vineyards). From Silverton, take SR-213 [Cascade Hwy NE] east 8.3 miles and look for winery at 35803 SR-213.
---
Post a Comment
You must be signed in to comment.
New to WineTrailsNW? Sign up to comment.