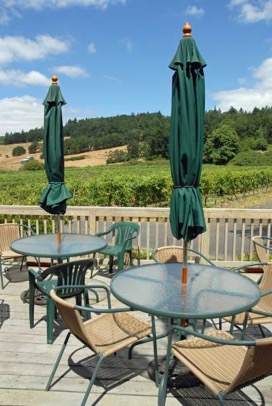 Ankeny Vineyard
The only thing friendlier than Hershey, the resident chocolate Lab at Ankeny Vineyard, is Joe Olexa, the vineyard's owner and resident dirt guy since 1982. With four college degrees under his belt — and none that had a thing to do with growing grapes — Joe caught the wine bug in the early '80s and never looked back. Today, he's the proud farmer of 35 acres of premium wine grapes.
The setting on this southern part of the Salem Hills affords visitors the chance to view the Ankeny National Bird Refuge from the property. If you like to swirl pinot while checking out ducks, geese, and swans, Ankeny Vineyard is the place to be. Joe, along with his tasting-room "wine duchess," Kathy Greysmith, usually are around to swap stories with visitors and explain the history of the property. Kathy is wonderfully welcoming as she leads visitors on a tasting tour of their estate white table wine, pinot gris, several pinot noirs, a pinot noir rosé, a Maréchal Foch and a red blend. My personal favorite was the Hershey's Red Pinot Noir, but I happen to be partial to wines with labels adorned with smiling dogs.
Be sure to take your glass to the outside patio, weather permitting, and enjoy. There's an outside chance that winemaker Andy Thomas will be around to provide tasting notes and winemaking secrets.
As the site of Cox Cemetery, Ankeny Vineyard is a historical property. A short hike up the hill will take you through Ankeny Vineyard wine grapes and past goats, emus, and llamas to arrive at the pioneer cemetery. The residents of Cox Cemetery include original settlers Tom and Martha Cox, who cultivated the current vineyard site in the mid-1800s, as well as about 100 other settlers buried in marked and unmarked graves. (WineTrail note: For further information about the Cox Cemetery, see www.oregonpioneers.com/marion/CoxCem.htm.) I was gazing at the view below and reflecting on those brave pioneers when my right hand felt a wet tongue. It was Hershey doing his friendly Lab thing and bringing me back to the here and now.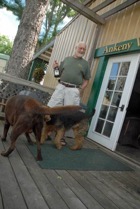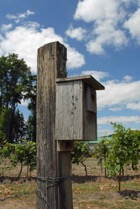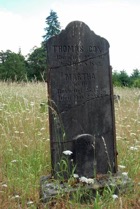 WineTrail: Salem – Monmouth WineTrail
Owner: Joe Olexa
Winemaker: Andy Thomas
Opened: 1980
Tasting Room: Open to the public
Amenities: Picnic Area,
Phone: 503-378-1498 Fax: 503-378-0243
Website: www.ankenyvineyard.com
Official Winery Rep/Owner: Information Change? Click Here
Ankeny Vineyard

Winery

2565 Riverside Rd S.,

Salem,

OR

97211-5444

-123.083317

44.818829

Hours: Daily 11–5
Enlarge Map
Directions: From I-5, take Exit 243 west (Ankeny Hill) and follow the blue winery signs. From Independence, at the flashing red light, go south on Rt. 51 for a quarter mile, turn left and cross the bridge over the Willamette River. Take your first right onto Riverside Rd S. and follow the blue winery signs.
---
Post a Comment
You must be signed in to comment.
New to WineTrailsNW? Sign up to comment.