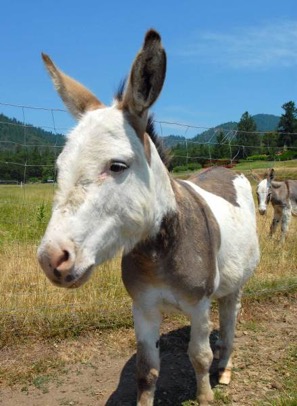 Applegate Red Winery
Frank Ferreira, the owner and vintner of Applegate Red Winery, states, "I'm a wine grower, not a wine maker." For him, it's all about the fruit in the vineyard, and in his case, it's a 20-acre vineyard situated in the spectacular Applegate Valley. The fact that he grows merlot, syrah, cabernet sauvignon, and cabernet franc tells you he is into reds. It is named Applegate Red Winery, after all.
His is the most eclectic winery in Oregon. Nowhere else would you find brilliantly colored parrots, a herd of miniature Sicilian donkeys, a picnic area to die for, a pond for waterfowl to enjoy, and a quaint scarlet-colored exterior tasting room complete with humorous plaques offering words to live by. It all reflects Frank's imaginative mind and attitude toward life. Born and bred on Maui, Frank moved to Oregon to "retire" but, ever the tinkerer, he started breeding parrots, raising miniature donkeys (because, as he puts it, "they're so damn cute"), and exercising his passion for growing wine.
Inside the friendly tasting room, Frank holds court while pouring samples of cabernet, syrah, merlot, and his signature blended wine, Applegate Red. While listening to Frank, be sure to check out the surrounding walls for those words to live by. Here are some of my favorites: "When in doubt, add wine," "Good wine and good friends, the perfect pairing," "Friends and wine get better with age," and "Wanted: Sugar Mama." When asked, Frank tells visitors that he uses organic practices in the vineyard and a minimalist approach to making wine: no sugar added while aging, and no fining or filtering before bottling.
You won't find another wine club in Oregon like that of Applegate Red Winery either. Membership to Frank's club is by invitation only. Named after the street number of his Missouri Flat Road address, the 222 Wine Club is limited to frequent visitors or those who have purchased a case or two of wine. The cost of membership is $222 and entitles you to an annual shipment of a case of wine. With the prices of his wines averaging in the mid-$20 range, that's a bargain.
As I drove toward the exit, past the miniature donkeys in the field, I reflected on one of Frank's wall quotations, "I hope my ship comes in before my dock rots!" Frank, trust me, your ship has arrived.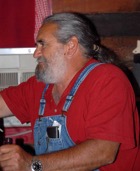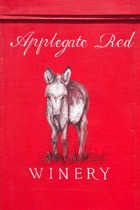 WineTrail: Applegate Valley WineTrail
Owner: Frank Ferreira
Winemaker: Frank Ferreira
Opened: 2001
Tasting Room: Open to the public
Amenities: Gift Shop, Picnic Area, , Tours, Wine Club
Where To Buy: Winery
Phone: 541-846-9422 , 541-846-9557
Website: www.applegatered.com
Official Winery Rep/Owner: Information Change? Click Here
Applegate Red Winery

Winery

222 Missouri Flat Rd.,

Grants Pass,

OR

97527

-123.234781

42.317577

Hours: 11–5 Saturday, Sunday, and holidays
Enlarge Map
Directions: From Grants Pass take US-199 [SR-99] 1.3 miles heading south. Keep left onto SR-238 [Williams Hwy] and proceed 6.1 miles. Turn left (east) onto N. Applegate Rd and go 5.8 miles. Turn left (north) onto Kubli Rd and proceed .6 miles. Bear left (north) onto Missouri Flat Rd and look for signs to the winery. From Jacksonville go west 15 miles on SR-238 [Jacksonville Hwy]. Bear right (west) onto N. Applegate Rd for 4.5 miles. Keep straight onto Kubli Rd for 1.7 miles. Turn right (north) onto Missouri Flat Rd and go .1 miles and arrive at 222 Missouri Flat Rd.
---
Post a Comment
You must be signed in to comment.
New to WineTrailsNW? Sign up to comment.