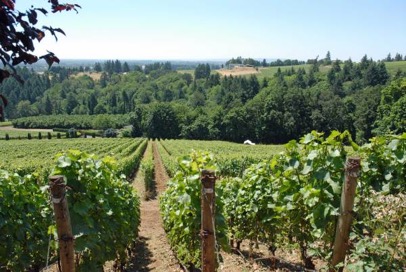 Archery Summit
"Archery Summit has established itself as the Rolls-Royce of Oregon Pinot Noir."
—Wine Spectator
For all you WineTrail trekkers planning a trip to Archery Summit, my one piece of advice is to take the tour. To understand Archery Summit one needs to go inside the bowels of its winemaking operation and learn the importance of gravity-fed winemaking. Modeled on the cellars of France's Côte d'Or, Archery Summit's design begins underground. It's in the caves where you can sample pinot noir from the barrel and understand why it earned the "Rolls-Royce" label. WineTrail note: Daily tours begin at 10:30 a.m. and 2 p.m. And even though may be 90 degrees outside, bring a jacket for the 55- to 59-degree constant temperatures in the caves. To reserve a spot, call the Guest Relations Department at 503-864-4300.
In scanning Archery Summit press reviews, I found certain words and phrases cropping up, such as "fine in texture," "round," "bright cherry and coffee flavors," "velvety," and my personal favorite, "cool and leafy." Clearly, 90 percent of the battle is working with the best-in-class fruit, but it's also Archery Summit's unique method of making wine in its gravity-fed winery. Guided by winemaker Anna Matzinger's technical background and intuitive palate, Archery Summit grapes are submitted to a time-tested treatment, which includes sorting clusters by hand, cold-soaking the clusters for five days, and using indigenous yeast.
At Archery Summit, blending is the rule rather than the exception. This age-old Burgundian practice is key in the production of the winery's Premier Cuvée Pinot Noir, a blend of its oldest Pommard and Dijon estate clones. It's a classic case of the whole being better than the sum of its parts. How about this description from Archery Summit to get your mouth watering? "Scarlet red in color, the Archery Summit Premier Cuvée opens with lifted aromas of black cherries, rose petal, vanilla and a hint of savory spice."
Membership has its privileges, and this is certainly true for members of Archery Summit's A-List. There is no cost to join the A-List, and members receive at least eight wines annually. ; many of them are vineyard-designated wines allocated only to A-List members. Members also have access to a unique resource: they can contact a dedicated Archery Summit concierge to plan their next Oregon wine-tour getaway. It's a classy touch representative of what you can expect from Archery Summit.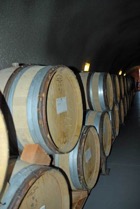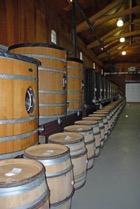 WineTrail: Dundee Hills WineTrail South
Owner: Leucadia Corp: Crimson Wine Group
Winemaker: Anna Matzinger
Opened: 1993
Tasting Room: Open to the public
Amenities: , Tours
Where To Buy: Winery or online
Phone: 503-864-4300 , 800-732-8822 Fax: 503-864-4038
Website: www.archerysummit.com
Official Winery Rep/Owner: Information Change? Click Here
Archery Summit

Winery

18599 NE Archery Summit Rd,

Dayton,

OR

97114

-123.04852

45.257886

Hours: Daily 10–4; Tours at 10:30 and 2:30
Enlarge Map
Directions: From Portland take exit I-5 south. Take exit 99W McMinnville (exit number 294) and continue on 99W through Tigard, Sherwood, Newberg and Dundee. Approximately 1 mile south of Dundee, turn right on Archery Summit Rd. Follow gravel road .8 of a mile until you reach the Archery Summit gate.
---
Post a Comment
You must be signed in to comment.
New to WineTrailsNW? Sign up to comment.