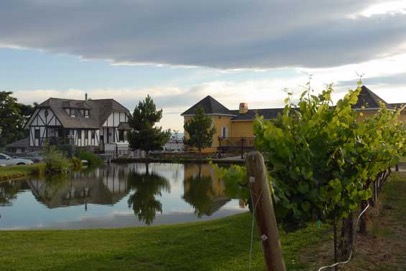 Bonair Winery
Founded in 1985, Bonair Winery and Vineyards is located in the heart of Yakima wine country―Zillah, to be precise. With the Rattlesnake Hills to the east, this wine country region presents a constellation of images that would fill a calendar: October harvest, Fourth of July red, white and rosé tasting rooms, cases of wine under the Christmas tree, and many more. Gail Puryear, owner and vintner of Bonair, wants visitors to experience "real wineries," for which they pass by vineyards on the way to the tasting rooms and while doing so, make the connection between the wines and their origins .
The architectural style of the Bonair Winery may remind you of an English country estate, with its turret and brown-trimmed white buildings. With a koi pond positioned in front of the winery and Yakima's typical deep blue skies as a backdrop, you're treated to another calendar-perfect image. Get ready to enjoy what Gail describes as a "hobby that got out of control." Bonair's reputation for chardonnay, quaffable reds, fruity sipping wines, and mead makes it unique. Yes, the chardonnay is aged in oak "the old-fashioned way." Bonair's flagship Chateau Puryear Reserve Chardonnay is big, soft and buttery, and as Gail puts it, is "like chardonnay used to be before self-appointed wine critics." Sample the chardonnay and imagine that paired with your wine-country turkey and cranberry sauce.
Order the book!

Bonair Winery was featured in WineTrails of Washington as part of the Rattlesnake Hills WineTrail on page 286!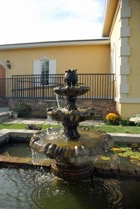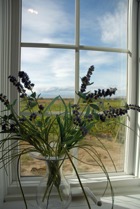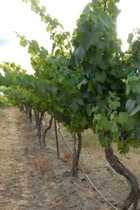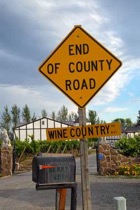 WineTrail: Rattlesnake Hills WineTrail
Owner: Bonair Winery, Inc.
Winemaker: Gail Puryear
Opened: 1985
Tasting Room: Open to the public
Amenities: Gift Shop, Picnic Area, Tours, Wine Club, Facebook, Vineyard on Premise, Online Store, Weddings
Where To Buy: Winery
Phone: 509-829-6027 , 800-882-8939 Fax: 509-829-6410
Website: www.bonairwine.com
Official Winery Rep/Owner: Information Change? Click Here
Bonair Winery

Winery/Tasting Room

500 South Bonair Road,

Zillah,

WA

98953-9245

-120.293356

46.426802

Hours: Daily 10–5 from April through November; weekends December through March, or by appointment
Enlarge Map
Directions: From I-82 heading east or west, take exit 54 and turn onto Yakima Valley Hwy. Proceed about 2 miles around bend to Cheyne Rd. Turn right onto Cheyne Rd and proceed about 1 mile to Highland Drive. Turn left onto Highland Drive and proceed about 1 mile to Bonair Rd. Turn left onto Bonair Rd and proceed to the end. The winery will be straight ahead.
---
Post a Comment
You must be signed in to comment.
New to WineTrailsNW? Sign up to comment.