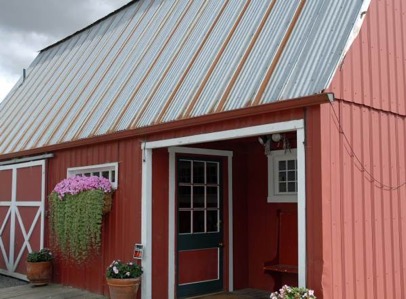 Pudding River Wine Cellars
The Pudding River wine label muses, "Life is good, the palate is pleased, and the rooster crows again!" For owner and winemaker Sean Driggers, that reference to the rooster crowing again has personal meaning. Prior to moving to rural East Willamette Valley in 2004, Sean and his wife, Stacey, lived a hectic life in Bellevue, Washington, pursuing mechanical-engineering careers. However, the adrenaline of the rat race began to wear thin and a longing for a less hectic life — where you can hear "the rooster crowing" — took over.
Located off Sunnyview Road in East Salem, the Pudding River Wine Cellars property was once a poultry farm. Sean's in-laws, John and Karen Bateman, recognized that the area produced premium wine grapes; why else would the well-established wineries in western Willamette Valley purchase grapes from this district they reasoned. Working the 4-acre vineyard resulted in the release of Pudding River Wine Cellar's first vintage (2006) of estate pinot noir to critical acclaim. In 2007, Pudding River wines gained acceptance into the Portland Indie Wine Festival. As the co-owner of a boutique winery, Sean took this opportunity to showcase the wines of an undiscovered Oregon wine region — East Willamette Valley.
Near the entrance to the winery is a two-story 1906 house that serves as the Driggers' home. This means that Sean's commute time to winery, vineyard, and tasting room is about one minute, 30 seconds — a far cry from rush-hour traffic in Bellevue. A separate red barn houses the tasting room for Pudding River Wine Cellars. Located upstairs, the whitewashed room is where you often find Karen Bateman, Sean's mother-in-law. With an engaging smile, she pours wine and entertains guests. It's a relaxed space in which to sample their rooster-labeled line-up of viognier, chardonnay, pinot noir, pinot gris, riesling, and pinot noir rosé. Sean must be doing something right: He's already garnered an 87 from Wine Spectator for his 2006 Willamette Valley Chardonnay. According to Wine Spectator, this chardonnay is "very good, a wine with special qualities." However, WineTrail trekkers should know that, given the small quantities of wine that Pudding River produces, certain wines are likely to be sold out.
The term "rising star" aptly describes Pudding River Wine Cellars, and its rise is a key reason we can say "adios" to the notion of East Willamette Valley as an undiscovered wine region. Clearly, life is good, the palate is pleased, and the rooster crows again!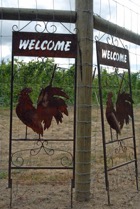 WineTrail: East Willamette Valley WineTrail
Owner: John and Karen Bateman, Sean Driggers
Winemaker: Sean Driggers
Tasting Room: Open to the public
Amenities: , Wine Club
Where To Buy: Winery
Phone: 503-365-0391 Fax: 503-365-1907
Website: www.puddingriver.com
Official Winery Rep/Owner: Information Change? Click Here
Pudding River Wine Cellars

Tasting Room

9374 Sunnyview Road NE,

Salem,

OR

97317

-122.86877900000000352

44.956874900000002526

Hours: Saturday and Sunday from 11 -5 (May 31 through September)
Enlarge Map
Directions: On I-5 take exit 260B, toward Keizer. Head east onto Chemawa Rd NE and go 1.1 miles. Road name changes to Hazelgreen Rd NE. Go 5 miles. Turn right (south) onto Howell Prairie Rd NE and go 3.9 miles. Turn left (east) onto Sunnyview Rd NE and proceed .8 miles to winery on the right. From downtown Salem go north on Liberty St. for .8 miles. Turn right (east) onto Center St. NE and go 3.9 miles. Turn left (north) onto Cordon Rd NE and go 1.1 miles. Turn right (east) onto Sunnyview Rd NE and proceed 4.4 miles. Arrive at 9374 Sunnyview Rd NE.
---
Post a Comment
You must be signed in to comment.
New to WineTrailsNW? Sign up to comment.