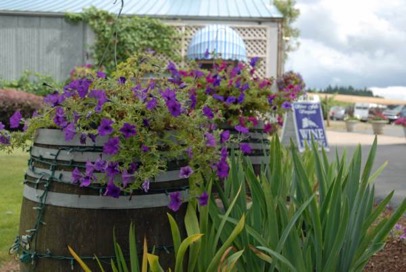 Silver Falls Vineyards
If you're looking for a place to get hitched, your search may be over. The place is called Silver Falls Vineyards, and the size of the property, the amenities, and the quick access to local attractions make it a convenient location for tying the knot. Imagine this: a 100-acre majestic property located right off the Cascade Highway, plenty of parking, an estate vineyard, spacious grounds, and an inside banquet hall complete with piano and sound system. It's a wedding planner's dream.
When considering a place to exchange marriage vows, my concerns would be whether or not there's a mirror in which to check my bow tie, a kitchen to store my sister's Swedish meatballs, and ready access to the wine and other beverages. None of these worries pose a problem at Silver Falls Vineyards — especially the wine part.
Owned by Duane and Gail Defree, Silver Falls Vineyards is a family-owned and -operated winery. The 18-acre estate vineyard is truly "old vine" by Oregon standards, with most vines planted 30 years ago. The rich soil of East Willamette Valley provides an excellent home to four different varietals: pinot noir, pinot gris, riesling, and chardonnay. The harvested fruit is converted into wine at nearby Chateau Bianca winery by winemaker Andreas Wetzel. In addition to the varietal wines just mentioned, Andreas also makes a dessert wine called Sublime and a popular white blend named Silver Mist. As you would expect, Silver Falls also produces a sparkler with the perfect name of "Cheers" for those regularly occurring weddings. The Defrees distribute most of the wine directly from the tasting room at Silver Falls Vineyards for remarkably low prices. Most wines sell in the $15 range, to entice would-be visitors to venture east of I-5 to explore this uncrowded wine region.
The tasting room features a number of wine accessories to take home along with your wine purchase. Or, if you arrived for a wedding and forgot the gift, you can spring for one of those fancy wine openers or something artsy for the bedroom. Of course, with wines so reasonably priced, you may opt to get the bride and groom a case of the reserve pinot noir.
If the weather permits, take a glass of wine to the picnic area, located in a grove of old oak trees. There, you can contemplate the details of an upcoming wedding or wonder why viticulture scientists haven't come up with a seedless wine grape.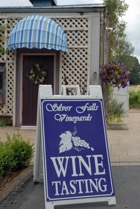 WineTrail: East Willamette Valley WineTrail
Owner: Duane and Gail Defree
Winemaker: Andreas Wetzel
Tasting Room: Open to the public
Amenities: Gift Shop, Picnic Area, Receptions, , Weddings
Where To Buy: Winery
Phone: 503-769-5056
Website: www.silverfallsvineyards.com
Official Winery Rep/Owner: Information Change? Click Here
Silver Falls Vineyards

Tasting Room

4972 Cascade Highway SE,

Sublimity,

OR

97385

-122.791017

44.870784

Hours: 11–6 Friday through Sunday, March through December, or by appointment
Enlarge Map
Directions: From Silverton take SR-213 [Cascade Hwy NE] for 10 miles heading south toward Sublimity. Arrive at Silver Falls Vineyards at 4972 Cascade Hwy SE. From Salem head east on SR-22 [SR-99E Bus] for 13.7 miles. Turn right onto ramp toward Santiam/Sublimity. Turn left (north) onto Cascade Hwy SE for 3.8 miles and arrive at 4972 Cascade Hwy SE.
---
Post a Comment
You must be signed in to comment.
New to WineTrailsNW? Sign up to comment.