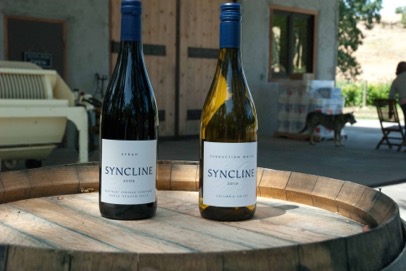 Syncline Wine Cellars
Vintners James and Poppie Mantone are transplants from other parts of the country. They met and fell in love at LaVelle Vineyards in the Willamette Valley. Settling on the Washington side of the Columbia River Gorge, they started Syncline in 1999. (Note: A syncline is a type of rock formation seen in the Columbia River Gorge.)
James' background as a microbiologist and organic chemist has ingrained in him an exceptional attention to detail. In his mind, the gaseous, bubbly, seemingly out-of-control fermentation process makes perfect scientific sense. Syncline Wine Cellars' focus is on Rhône-style wines, and that aforementioned attention to detail may help explain why a growing number of wine lovers call Syncline their favorite wine.
If your taste buds have a predilection for the supple, food-friendly flavors of grenache, Mourvèdre, roussanne, or viognier, this is the place for you. Plus, if you're like me and enjoy wineries located in an old barn with rows of manicured vineyards in the background, Syncline makes for a beautiful afternoon and an ideal setting for a picnic. And keep in mind that its southern Rhône blend makes a great companion for the picnic fare you've packed.
Order the book!

Syncline Wine Cellars was featured in WineTrails of Washington as part of the Columbia River Gorge WineTrail on page 176!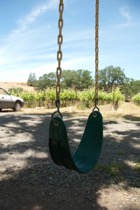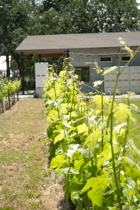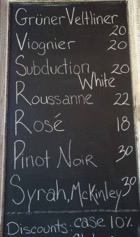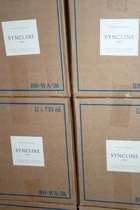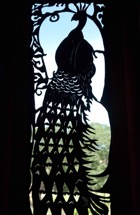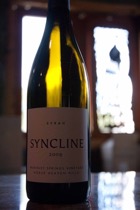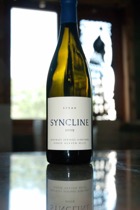 WineTrail: Columbia River Gorge WineTrail
Owner: James and Poppie Mantone
Winemaker: James and Poppie Mantone
Opened: 1998
Tasting Room: Open to the public
Amenities: Picnic Area, Wine Club, Facebook, Twitter, Newsletter/Blog, RV/Bus Parking, Online Store, Vineyard on Premise
Where To Buy: Winery, select wine shops, wine bars, restaurants, and grocery stores
Phone: 509-365-4361 Fax: 509-365-4361
Website: www.synclinewine.com
Official Winery Rep/Owner: Information Change? Click Here
Syncline Wine Cellars

Winery/Tasting Room

111 Balch Road,

Lyle,

WA

98635

-121.329085

45.719924

Hours: Thursday through Sunday 11–6 from February through November; Saturday and Sunday 11-5 during December and January; Closed December 24th through January 11th
Enlarge Map
Directions: From SR-14 heading east as you approach Lyle turn onto County Road 1230 [Lyle White Salmon Rd] and proceed about 3 miles. Turn left onto Balch Rd and proceed .3 miles and arrive at 111 Balch Rd. If heading west on SR-14 turn right onto Lyle Snowden Rd and proceed 1.2 miles. Keep straight onto Lyle White Salmon Rd and proceed 1.1 miles. Turn right onto Balch Rd and proceed .3 miles to Syncline Wine Cellars tasting room.
---
Post a Comment
You must be signed in to comment.
New to WineTrailsNW? Sign up to comment.