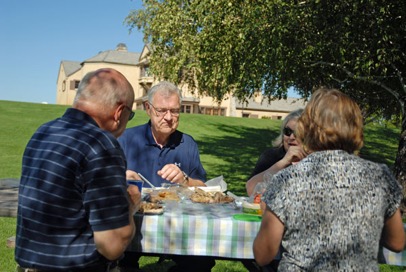 Horse Heaven WineTrail
Bordered on the north by the Yakima Valley and on the south by the majestic Columbia River, this area is home to some of the state's most celebrated vineyards, including Champoux, Destiny Ridge, Andrew, Alder Ridge, Canoe Ridge, and Zephyr Ridge. The area's soil, wind (and lots of it), low moisture, gentle southern slopes, and proximity to the Columbia River all conspire to create intense wine grapes.
It is a required field trip for all WineTrail enthusiasts to visit Columbia Crest at Paterson. During the warm weather months, check out Chateau Ste. Michelle's Tasting Gallery highlighting the exceptional fruit of Canoe Ridge Vineyard. Close by is the family-owned McKinley Springs Winery. If you are urban dweller, you will be stunned by the scenery as you travel to these wineries. Don't forget your camera. Pack a good lunch and make sure you have plenty of gas, because those kinds of necessities are hard to come by in the Horse Heaven Hills. Besides, once you saw the picnic grounds at Columbia Crest, you would kick yourself if you forgot lunch.
View All the Wineries on this Trail
Wineries in this WineTrail
Chateau Ste. Michelle Tasting Gallery

239653 Canoe Ridge Road, Paterson, WA 99345

---

Columbia Crest Drive, Paterson, WA 99345-0000 -119.602918 45.949517

---

1201 Alderdale Road, Prosser, WA 99350 -119.909242 45.99787

---
---
Post a Comment
You must be signed in to comment.
New to WineTrailsNW? Sign up to comment.